New: Free WhitePaper for download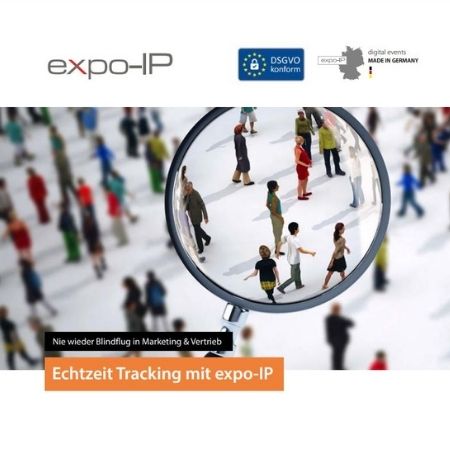 WhitePaper: 10 pages
Visitor tracking
With "expo-IP" - personalised tracking, you can find out what your customers and potential prospects are thinking about. All essential information at a glance - directly in your CRM if you wish.
With expo-IP, you can create your individually designed and interactive digital showrooms, information and resource centres or digital events such as virtual trade fairs / in-house exhibitions or online roadshows with any number of visitors in just a few minutes. The numerous integrated functions of the
platform have now been extended by a highly efficient tool: real-time visitor tracking.
Win new leads
Use your digital documents (flyers, white papers, brochures, catalogues, explanatory films, etc.) to arouse the curiosity of potentially interested parties. Simply, flexibly and intuitively provide documents, videos, image galleries, 360° views or 3D product visualisations - or integrate your own website into expo-IP within seconds.
Tips and insights for engaging digital and hybrid live events ...
In the Infocenter you will find information about digital marketing and events with the interactive platform expo-IP. Learn exciting and groundbreaking things in our whitepapers, guides, videos and webinars.
Recordings of the webinars
Downloads whitepapers and studies
Showcases
All information about expo-IP