New: Free WhitePaper for download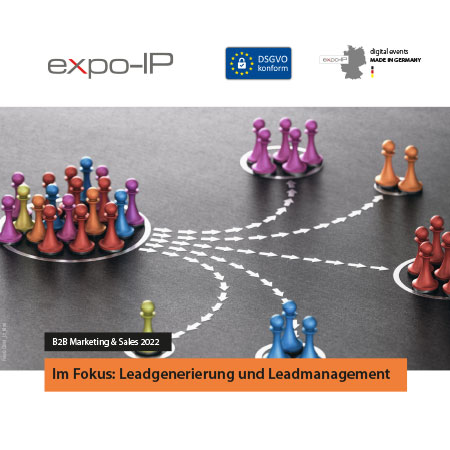 WhitePaper: 23 pages
B2B Marketing & Sales 2022
In focus: lead generation and lead management
The uncertainty among B2B companies regarding trade fair participation is clearly noticeable. First and foremost, the "data protection wrangling" in online marketing is giving many a hard time. Will the planned trade fairs finally take place again in 2022, will they be postponed or even cancelled?
Not only for organisers - also for B2B companies the current situation is hard to bear. Participation in trade fairs is one of the most important marketing campaigns for numerous companies in order to gain new contacts (leads) to potential customers and their buyers and purchase decision-makers.
Even before the pandemic, studies clearly show that B2B buyers are increasingly using digital media and internet offers from suppliers. It is important to react here and not rely solely on events such as trade fairs or classic online marketing campaigns. The highest priority should be given to
lead management and the interaction between marketing and sales.
In this white paper, we look at the behaviour of purchase decision-makers and buyers during the process of supplier research through to supplier selection. The second section shows how B2B companies can make the most of this behaviour and move towards modern, automated lead management.
Tips and insights for engaging digital and hybrid live events ...
In the Infocenter you will find information about digital marketing and events with the interactive platform expo-IP. Learn exciting and groundbreaking things in our whitepapers, guides, videos and webinars.
Recordings of the webinars
Downloads whitepapers and studies
Showcases
All information about expo-IP