SHOWCASE // BEST PRACTICE // CASE STUDY
Guest contributions and references made with expo-IP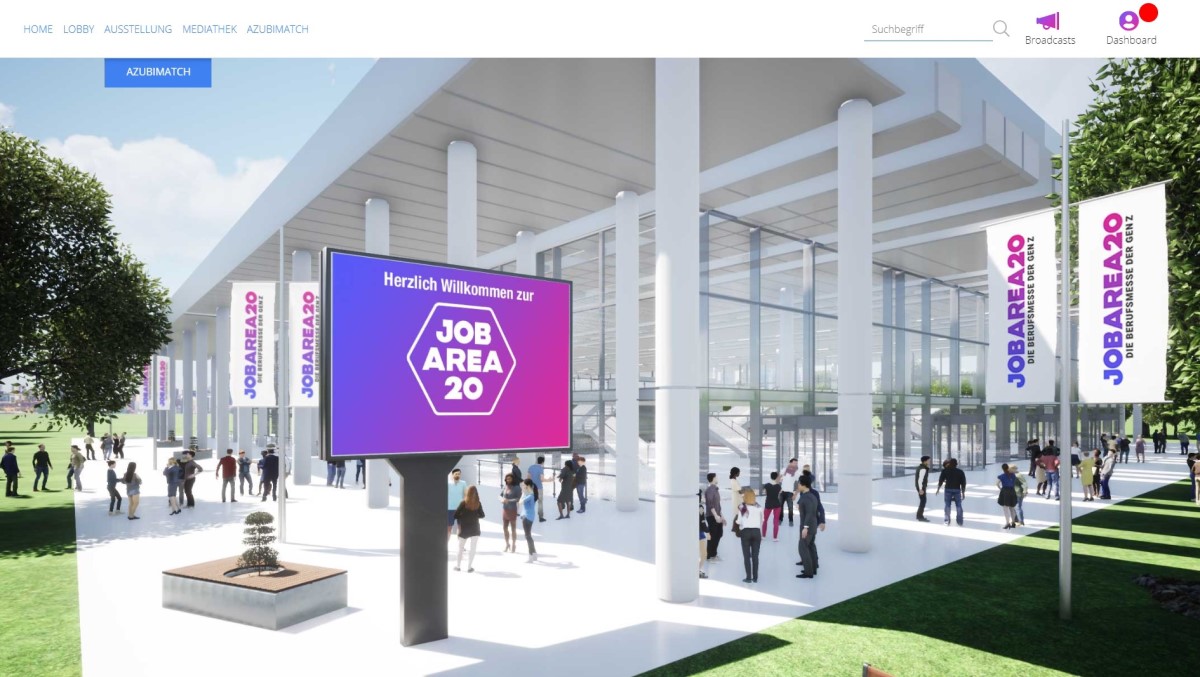 jobarea20
First of all, it is very important to us to help young people get a better start in their professional lives! What is otherwise often quite difficult for various reasons has been made even more difficult by the Corona situation...
About the project:
We provided full-service support for "jobarea20":
Basic concept with advice & support for the organisers
Set up and structure the dynamic landing page
Collecting the relevant exhibitor data for the stand design
Setting up and structuring the trade fair platform
Construction and design of all exhibition stands incl. exhibitor support
Complete visitor ticket management
Evaluation & debriefing (to make the next edition even more effective).
Only the direct communication and advertising went directly through the organisers. Of course, we could have also taken over this part - with more than 10 years of experience in the social media sector (with a focus on paid advertising) no problem at all 😉
Our in-house tool "azubiMATCH" was again used as the "centrepiece" and USP. In short: Our matching algorithm suggests the matching job profiles of the exhibiting companies and institutions - after a short, modern, simple and intuitive self-assessment by the visitors/students.
This often creates exciting "AHA effects", because the young people get to know both companies and the jobs or training occupations on offer, which they did not know before!
Quite different from "real life", where unknown exhibitors are often not visited at all and participation may not be worthwhile for them in the end. Not so with azubiMATCH! It doesn't matter what the company's name is or how "sexy" it is at the moment - with a matching value of more than 80, 85 or even 90%, this stand will be visited; logical if this exhibitor is very far ahead or even in first place in your personal ranking!
So, thanks to azubiMatch, 'the right ones' could simply find each other out of the almost 100 well-known companies and the almost 2000 active pupils! Good thing, isn't it?
Key data "jobarea20
Just under 2,500 visitors in total
of which over 1800 pupils
Almost 100 exhibitors (83 participating companies as well as vocational guidance institutions such as the Chamber of Industry and Commerce, Chamber of Crafts, Employment Agency, Job Centre and the vocational colleges from the entire region)
140 schools from Rheinbach, Bonn, the Rhein-Sieg district and the entire surrounding area as far as Cologne/Euskirchen
Lively exchange at the stands via the chat/communication tool of our partner okomo, in part even via appointments arranged in advance
"jobarea20" - a complete success in every respect!
Appropriately, here is the official press release of the Rhein-Sieg-Kreis:
https://www.rhein-sieg-kreis.de/presseinformationen/2021/November/jobarea.php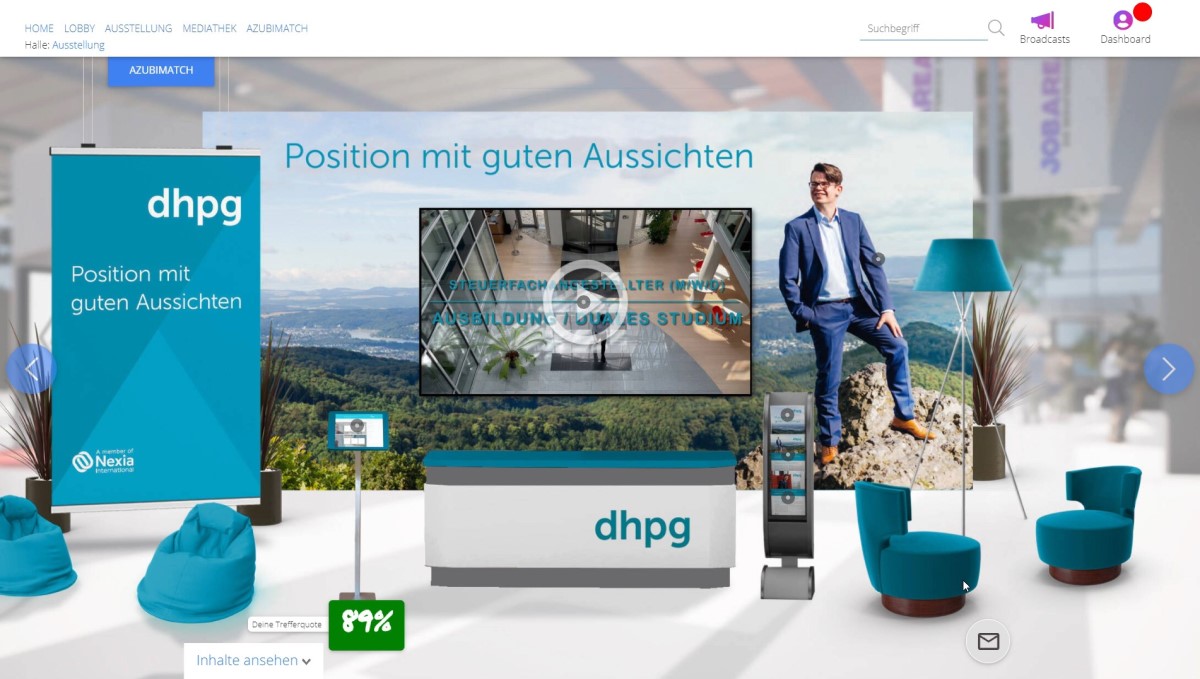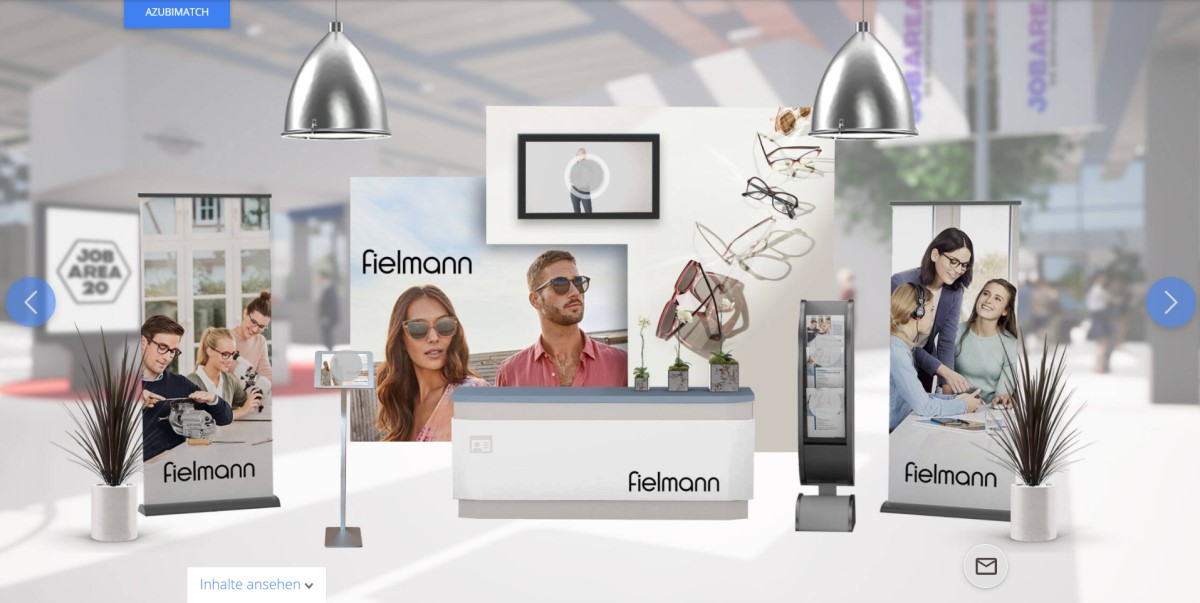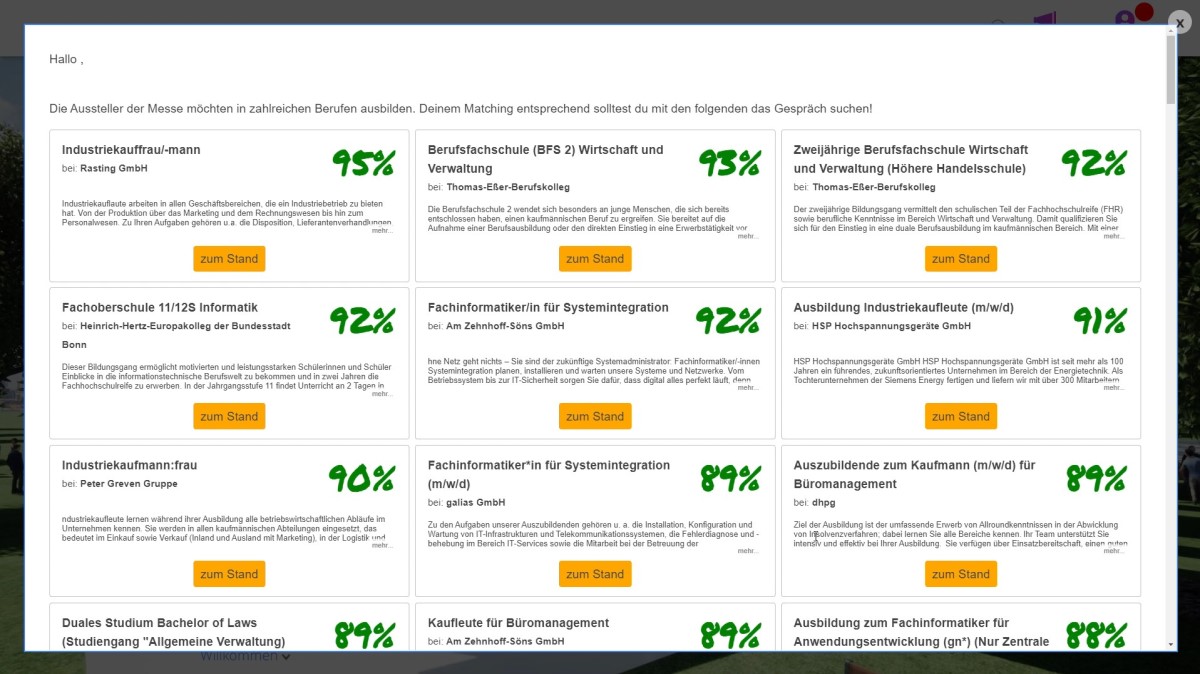 Note: This is a guest post by pott.digital UG. Responsible for the images and texts is pott.digital UG.