SHOWCASE // BEST PRACTICE // CASE STUDY
Guest contributions and references made with expo-IP
A B2B event sets new standards: the TIK DIGITAL 2020
It has become one of the largest and most important B2B events in the DACH region: the Tag der Industriekommunikation (TIK). The event organized by the Bundesverband Industrie Kommunikation e.V. (bvik) focuses primarily on exchange, know-how transfer and networking. (bvik) is primarily focused on exchange, know-how transfer and networking. All participants pursue a common goal: the professionalization of industrial communication.
But in 2020, as we all know, everything was different: TIK 2020 could not take place live as usual. The solution? A virtual event that sets new benchmarks. As a bvik member and official partner, it was a great pleasure for us to support the association in the transformation of the first "TIK DIGITAL" into the virtual world.
"We didn't want a hanging game between cancelling, postponing or offering digitally. The bvik stands for innovation, trend leadership and depth of content in industrial communication. We accepted the challenge and wanted to offer our members a best case that shows how professional content delivery including networking can be taken to the next level."
Kai Halter, Chairman of the Board of bvik and Director of Marketing at ebm-papst Mulfingen GmbH & Co. KG
Making a virtue out of necessity: a "TIK" more virtual.
Networking is clearly the focus at bvik. When planning the event, it was particularly important to us to make this possible in a virtual world as well. And since an event, especially in the digital space, thrives on user interaction, we relied on the use of innovative tools. Whether open whiteboards, interactive Q&A sessions or live chats: all guests were able to actively participate in the event. The highlight was the marketing pick-me-up bar. Here, all visitors were able to move around via avatar and participate informally in various discussions via webcam.
Clever thinking, well done: platform and content.
When designing the EXPO IP landscape, we always had in mind to guide all participants through the platform and the program and interaction points as barrier-free as possible. Here we opted for a visual guidance system. Furthermore, central design elements served as signposts and anchor points for the different thematic areas IDENTITY, EMOTION and TECHNOLOGY.
Through a mix of recorded lectures and live lectures, these topic blocks were presented in a varied and informative way and linked to a well-rounded program by a professional moderation. In this way, valuable content could be produced in a short time and together with strong partners and streamed live on the day of the event.
Digital networking: getting to know each other 2.0.
In the exhibitor area of the digital TIK partner lounge, the guests had the opportunity to inform themselves about the partners of the bvik at many virtual booths and to get into conversation with the individual partners - in 1:1 chats.
TIK DIGITAL 2020 - our tasks at a glance:
Event concept and agenda
Design concept
Interaction concept
Technology concept
Platform selection
Design and filling of the platform with content
management of implementation partners
Preparation of planning and information documents
Screenplays
Checklists
Tutorials
Project management
Quality Management
 The result: a new benchmark in B2B.
The TIK DIGITAL 2020 was a complete success and set new standards in the B2B sector. Everything that made up the "real" TIK was transferred to a virtual world. So the TIK also works digitally - as confirmed by a satisfied customer:
"We are very happy to have found an excellent partner in wob, with whom we were not only able to implement this mammoth project in less than six weeks, but really bring it to fruition. This was only possible thanks to the extremely professional work of everyone involved. Especially the creativity and the competent cooperation on eye level with our longtime member were guarantors of success for this unique digital project. We are proud to have created a benchmark for digital/virtual events with TIK DIGITAL 2020."
Ramona Kaden, bvik Managing Director
Would you like to take a look at the TIK DIGITAL 2020? Click here for the detailed case: https://www.wob.ag/b2b-cases/online-event-bvik-tik-digital-2020
You too can act virtually! Simply get in touch with us now.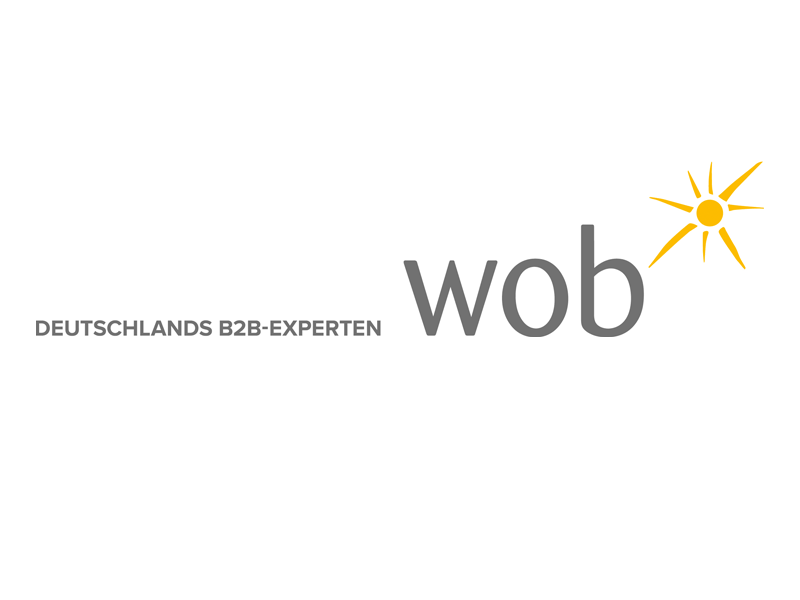 Organizer:
wob AG
Werner-Heisenberg-Str. 8-10
68519 Viernheim, Germany
Phone: +49 6204 970 157
E-mail: dennis.gueth@wob.ag
Web: www.wob.ag
Contact person: Mr. Dennis Güth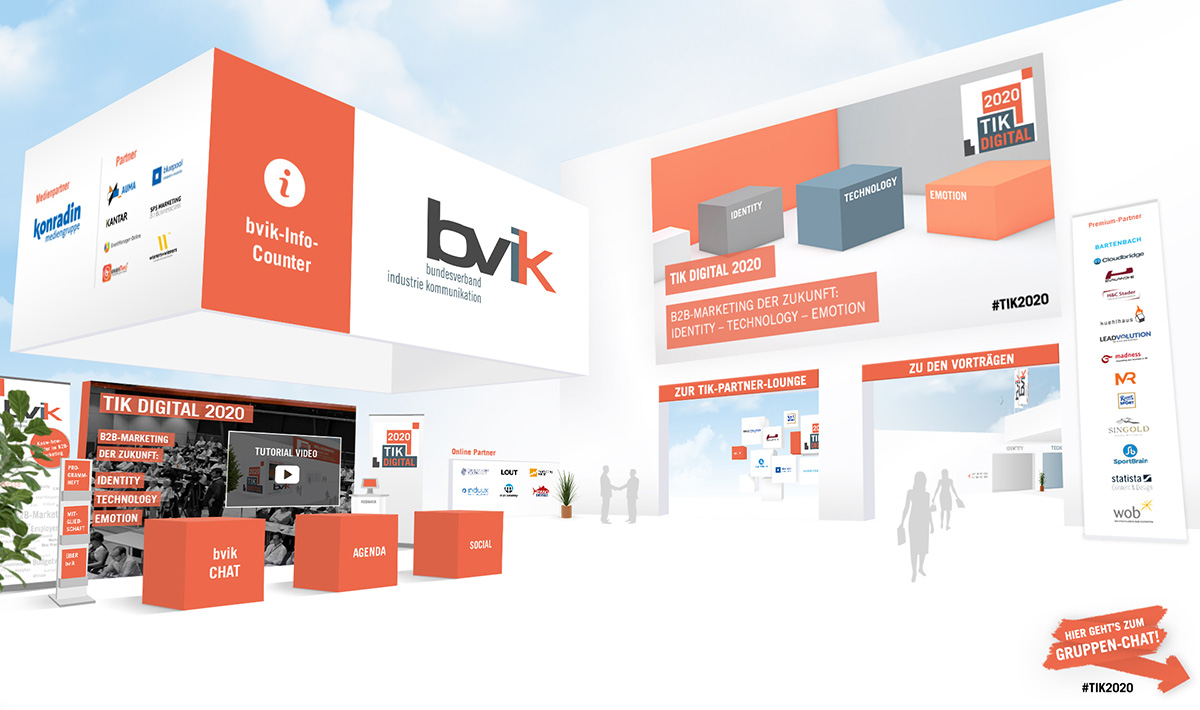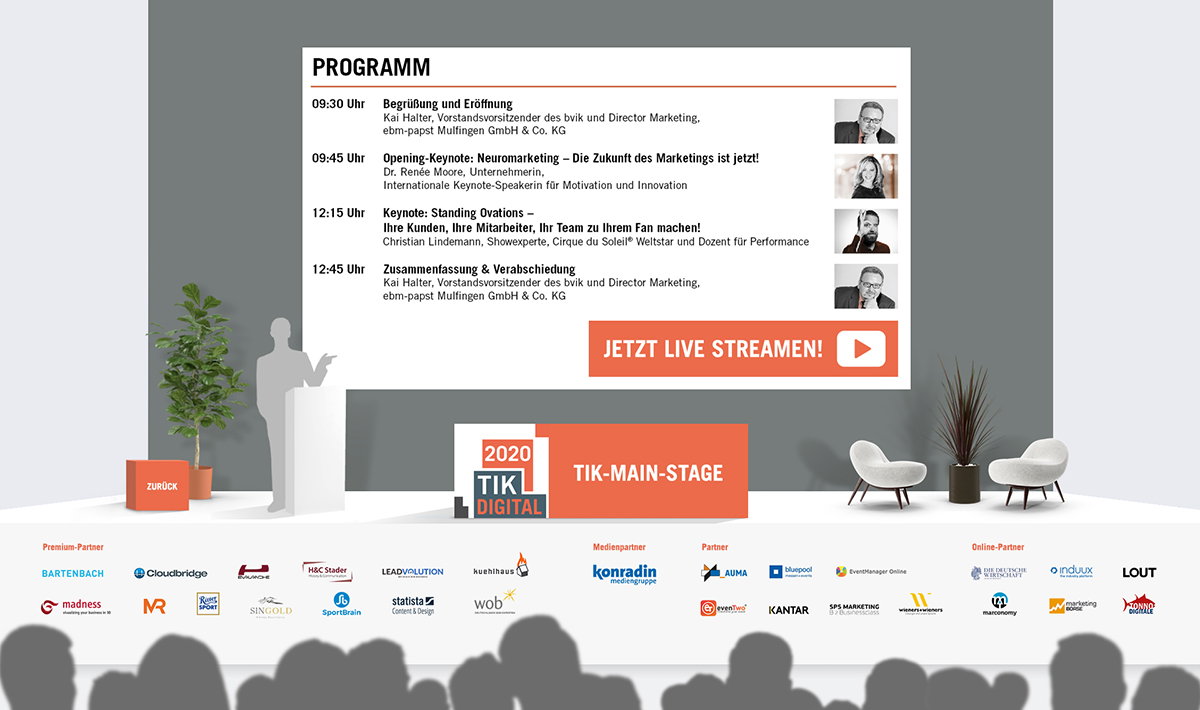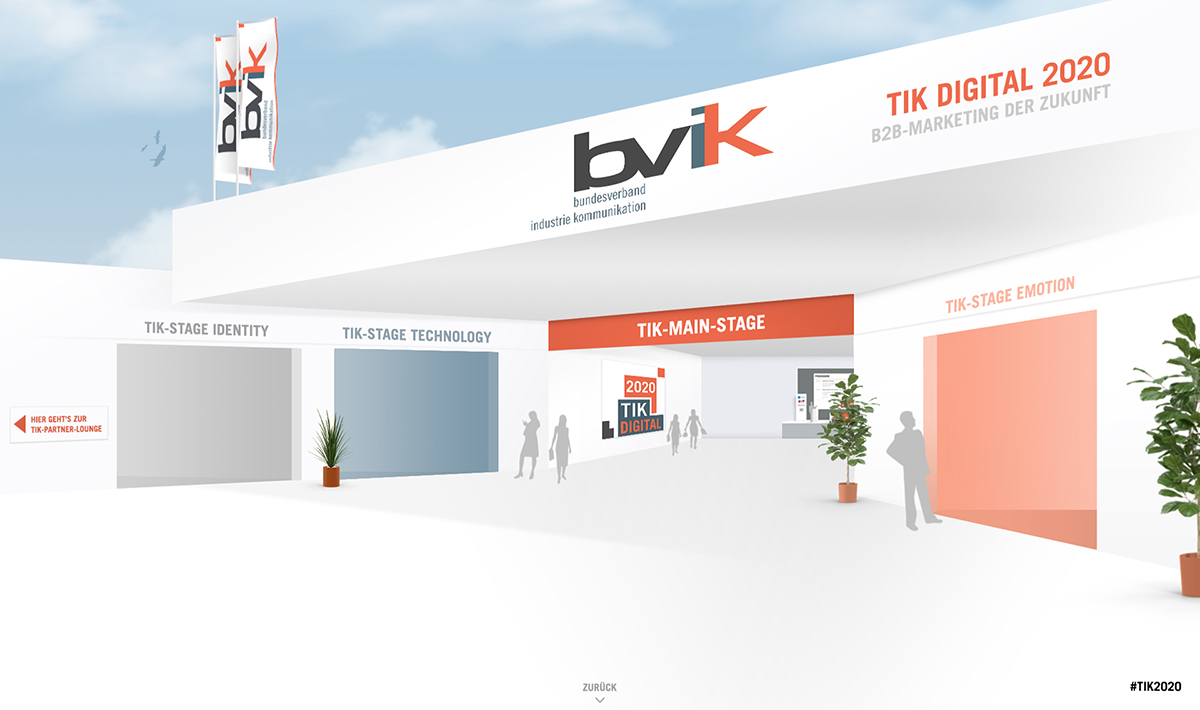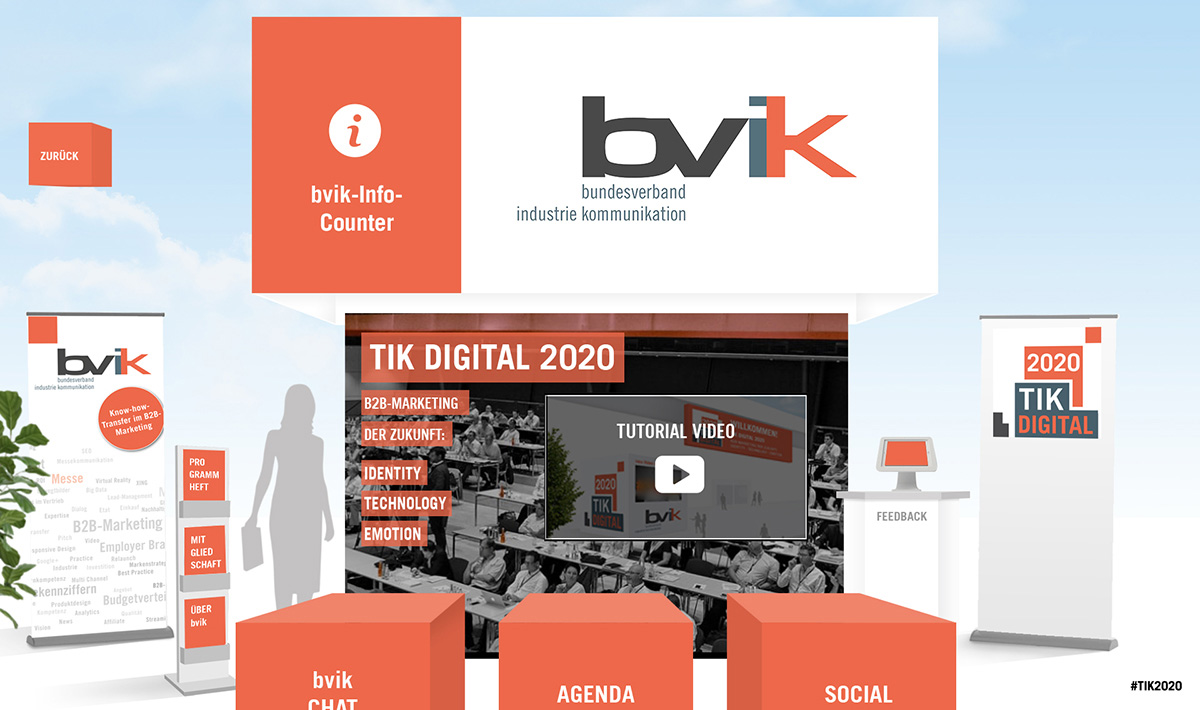 Note: This is a guest contribution from wob AG. Responsible for the pictures and texts is wob AG.