The further development of manufacturing companies towards the smart factory is referred to as the future vision of "Industry 4.0". This means that the smart factory is the consistent further development of modern factories into intelligent and networked environments with which productivity and flexibility can be increased.
With the digital transformation to the Smart Factory, you can
Increase productivity
Shorten lead times
Minimise set-up times
Reduce warehousing costs
Optimise business processes
Manage supply bottlenecks better
Reducing energy consumption and much more.
Do you want to take the first step towards the smart factory or are you already an experienced user interested in digital manufacturing processes, MES and Industry 4.0? Are IIoT topics around shop floor connectivity, AI, big data management and cloud services highly relevant for you?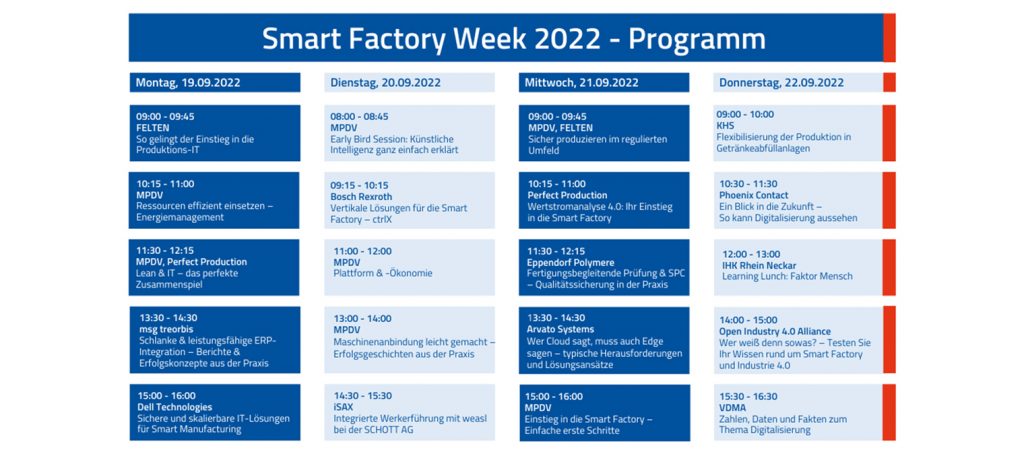 Then you should not miss the Smart Factory Week with presentations, live Q&A, discussions and best practice approaches incl. contact opportunities with experts and register directly free of charge.
Information on the topic and interesting insights into the elements of the Smart Factory are available in our free whitepaper after your registration. -> https://mpdv.expo-ip.com/
Target group: Management and employees in the manufacturing and process industry, production management, production planning, purchasing, IT, management consultancy, digitalisation officers