SHOWCASE // BEST PRACTICE // CASE STUDY
Guest contributions and references made with expo-IP

ConSense EXPO 2021 - Virtual exhibition around quality management and integrated management
The ConSense EXPO goes into a new round: From 27 to 30 April 2021, you will receive information, news and comprehensive advice about our software solutions and services in a virtual trade fair environment. Interactive live conferences on current QM topics and QM software round off the program. We cordially invite you to attend! Register now for the ConSense EXPO 2021.
Software solutions for truly lived management systems
The ConSense QM software is developed for efficient quality management according to DIN EN ISO 9001 or other QM standards. It offers you complete electronic support with regard to digital QM documentation, intelligent document control, automatic revision as well as process management including process modeling.
Our software solutions are particularly user-friendly and scalable in every respect: they are modular and grow with the requirements that arise from the industry, the complexity of the organization, the size of the company or the number of standards to be mapped.
The ConSense IMS ENTERPRISE software solution, for example, is designed for companies that need to map a management system with multiple locations, a complex, cross-national organizational structure and high requirements from various standards.
Companies from industries such as medical technology, pharmaceuticals, etc. that need a solution for validation management and want to efficiently manage the complex requirements of "Good Working Practice" (GxP) are optimally positioned with ConSense GxP.
ConSense DSGVO simplifies the establishment and expansion of a transparent data protection management system in accordance with the European General Data Protection Regulation.
With ConSense FORMS, electronic forms can be created quickly and easily and a clear form management and workflow management can be established.
In addition, we will be happy to show you various modules with which the ConSense basic solutions can be expanded as required, e.g. hazardous substance management, risk assessments, measures management, audit management and many more.
At ConSense EXPO 2021, we will also be happy to provide you with information on the stand-alone solution ConSense PORTAL, which is optimized as a web application for mobile devices and thus reduces the costs for installation, roll-out and maintenance, as well as on attractive hosting options.
Interactive live conferences
One of the special features of ConSense EXPO 2021 is the event's live conference program. Choose your personal program here from topics such as the introduction of a management system, the efficient management of qualifications and training, the functioning, central measure management and task management or the ROI consideration for the introduction of a management system, on which you would like to receive comprehensive information.
Due to the great demand, we are pleased to offer the live conference on the topic of internal QM marketing to increase employee acceptance of the QM system, which was the most visited last year, again. As a highlight, the live conference on electronic process and document control will offer insights into the EFQM Committed to Excellence validation at the PremiQaMed Group.
You will find a detailed overview of the entire programme of the trade fair days in the virtual trade fair environment after your registration.
In addition to the versatile program, you will also have the opportunity to call up ConSense webinars on various specialist topics flexibly "on demand" at the trade fair. Furthermore, the ConSense EXPO offers you the opportunity to exchange ideas with us in a personal conversation and to take a look at the software solutions live together.
Register online and participate free of charge
Are you interested in transparent, lived and accepted quality management systems and integrated management systems?
We cordially invite you to visit ConSense EXPO 2021 from April 27 - 30.
Be part of the virtual trade fair visit from the comfort of your desk and register now free of charge.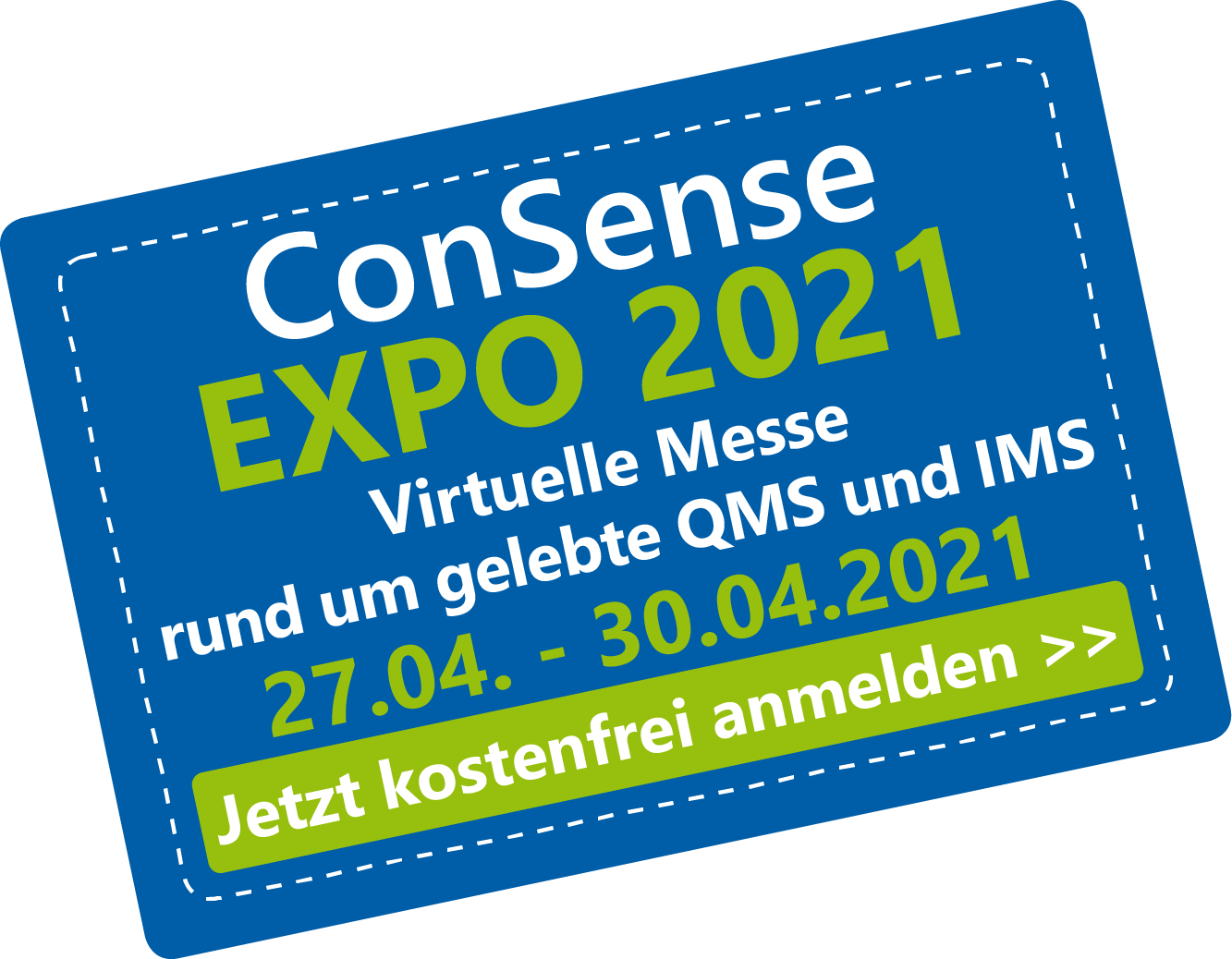 Note: This is a guest post by Consense GmbH. Consense GmbH is responsible for the images and texts.